Commemorating One Year Since Nato Began Bombing of Serbia
March 24, 1999 - March 24, 2000

Read the bombing coverage by R. Fisk in 50 articles

Updated! Additional Reading On Kosovo
Anti-Bombing Demo in Tokyo on May 16, 1999
Other Protests in Japan (in Japanese)
Appeals to Stop Bombing Raids
Recording of the bomb raid alarm in Belgrade
(MP3 file, 90 second duration, 711 K)
---
Non-Military Targets Bombed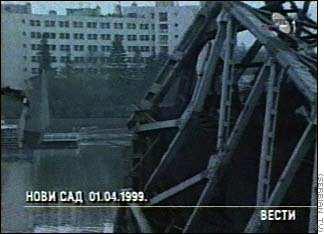 The Old Bridge in Novi Sad on April 1 (no, it was NOT an April Fool, NATO warlords have no sense for humor)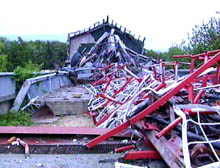 The TV Tower on Mt. Avala on April 29

---

When the Serbian Flag Flew Over the White House A bit of forgotten history. Serbia in World War I and Yugoslavia in World War II were allies of US. Here is the message President Woodrow Wilson gave on July 28, 1918 to the American people. It was read in churches throughout the country. Included is a poster produced in US during World War I calling for support for Serbia.
---
Other Links

(Links updated September 9, 2001)
The Gallery of ULUPUDS. Photos of bombed Serbia.


The site of the Serbian Orthodox Church, including reports on suffering of Serbs in post-war Kosovo and destruction of Serbain churches and monasteries.


The Democratic Party of Serbia I don't belong to any party but the program of this one is the closest to my ideas and opinions.


Inet News the latest news from Yugoslavia. Updated many times every day. (both in English and in Serbian)

My pages in Serbian Cyrillic famous Serbian poems, "Zavestenja Stefana Nemanje".
---
Thanks for visiting.
P. Minovic

Mail me your suggestions !